Description
Specification
bottom plate dimensions fi 49 cm
bottom plate made of powder coated steel sheet, with 5 kg additional weight
mounting plate made of 24x24x0,3 cm pressed steel sheet
mounting plate with 8 holes, 5 mm diameter
screwed base, delivered in parts
Weight about 10 kg
DIMENSIONS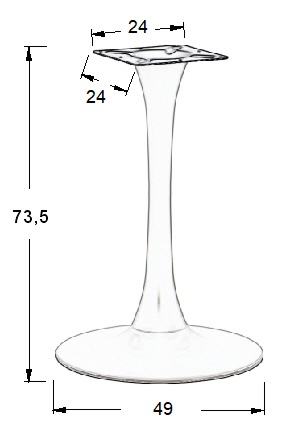 Description
Introducing our Metal Table Base:
Enhance the stability and style of your table with our Metal Table Base. Designed with both practicality and aesthetics in mind, this table base features a white-gray finish and offers reliable support for your table top. Here are the key features and benefits of this product:
Sturdy Construction: The table base is made of durable metal, ensuring long-lasting performance and stability. It provides a solid foundation for your table top.

White-Gray Finish: The base is coated with a powder-coated steel sheet in a stylish white-gray color. This finish adds a modern touch to your table setup and complements various interior design styles.

Additional Weight: The bottom plate of the table base is equipped with a 5 kg additional weight. This weight contributes to the overall stability of the base, ensuring a secure and balanced table setup.

Mounting Plate: The table base includes a 24x24x0.3 cm pressed steel sheet mounting plate with 8 holes, each measuring 5 mm in diameter. This allows for easy and secure attachment of the base to your table top.

Screwed Base, Delivered in Parts: The table base is delivered in parts, making it easy to transport and assemble. The package includes all the necessary screws and components for a convenient installation process.

Weight and Dimensions: The table base has a weight of about 10 kg, striking a balance between stability and manageability. Its dimensions ensure compatibility with various table top sizes.
Upgrade your table setup with our Metal Table Base. Its sturdy construction, white-gray finish, additional weight, and easy assembly make it a practical and stylish choice. Create a stable and visually appealing table arrangement with this high-quality table base today!